How to make weed oil?
Weed oil, known as CBD oil has been having great popularity over the few last years, it can be used in many forms, like tinctures, vape pens..etc. Two of those forms are oils, and butter that you keep as a great remedy or just to beautifully bake some pot brownies. Cannabis can be infused into a butter or oil, as the cannabis cannabinoids dissolve easily in fats.
The infusion usually happens with olive oil or coconut oil for their bioavailability and health benefits. Weed oil/butter can be used whenever you need a medicated ingredient. This article explains a lot about extracted CBD and cannabis-infused products.
We will even show you simple recipes you may want to give a try at home to make these cannabidiol products.
What is CBD?
CBD is one of many phytocannabinoids and components making the hemp plant.
It is a natural component that offers you lots of benefits and body uses, it has a high content of top essential nutrients and phytonutrients, which makes it one of the richest organic nutritional supplements
Extraction of CBD
To make sure that there are no harmful extracts in the raw cannabidiol, the manufacturer uses CO2 extraction, a process that separates cannabidiol from other compounds existing in the entire cannabis-plant and concentrates cannabidiol in the oil.
After many steps, pure oil that has a high cannabidiol content and/or a mixture of cannabidiol and some other valued cannabinoids and phytocannabinoids are used to make the Full and the Broad spectrum cannabidiol oils.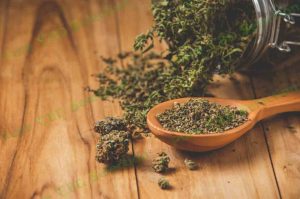 What do we recommend more?
Oils have a wide variety of uses and shapes, cannabis-infused oil may be used as medical topical creams/gels and absolutely for cooking.
On the other side, Cannabutter is restricted to be used for cooking edibles.
Things you should regard before making weed oil
Make sure that the cannabis flowers have a low level of THC (0.3% THC or less).
Try to use a dosage calculator to calculate the amount of cannabis at your disposal, the strength of the cannabis, and how much oil you want to make.
Coconut oil, olive oil, and butter are all different in the way they carry cannabinoids, which might affect the end result.
 Olive oil and Cannabutter are useful for different types of recipes, but coconut oil is the most renowned carrier for carrying the most cannabinoids.
To improve the effectiveness and the quality of the weed oil, you should add lecithin to the oil.
How can you make weed oil (cannabis-infused oil)?
Ingredients:
3.5 grams of cannabis flower (4 ounces)
Half a cup of coconut oil (or any cooking oil)
You need to use a 1:1 ratio of cannabis flower to coconut oil to cook it.
Equipment:
Rimmed baking tray
Baking paper
Crockpot, double boiler or saucepan
Cheesecloth or strainer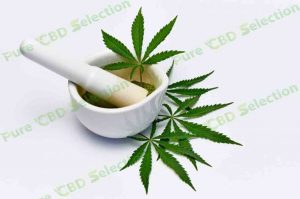 Directions:
First step
Cut any cannabis flower or buds you have into medium size pieces, not large, and not small.
Avoid cutting them so small that you break up the trichomes (the tiny plant hair) as they matter.
Second step
Put the special cannabis pieces onto a baking griddle after lining it with baking paper/parchment.
Place the griddle into the center of a preheated oven set to 115°C-120°C for 30-40 minutes.
Stir every 10 minutes.
Third step
Take it out of the oven, the color should not be the green color of the fresh cannabis, it should turn into a light brown/yellow color (a darker color).
Once the cannabis cools down, grind the cannabis and store it in an airtight bottle/container to be used at your need.
Fourth step
Mix/combine cannabis and coconut oil using one of the following methods:
In a crockpot on low heat for about 4-6 hours or a double boiler on low heat for 6-8 hours, stirring occasionally
In a saucepan on low heat for 3 hours, stirring regularly.
This method is the fastest, but it is also the most susceptible to scorching. You can avoid that by adding a small amount of water to the oil.
The temperature of the coconut oil should never be heated above 118°F.
Fifth step
Now we need to get rid of the plant material, so strain the oil through a cheesecloth or a strainer.
The left-over plant material can be stored to be used in another recipe.
It is so easy to make Cannabis butter/oil, so go try making it to make sure that they are always available in your kitchen. and enjoy.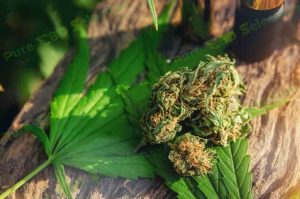 Guide tips to reach the best dosage
It is highly recommended that you start with small little doses of cannabis-infused oil (made from cannabis directly or coconut oil), then increase the dose gradually to have fast and good results.
While doing that, you will be making your cannabis-infused oil intaking experience almost safe, you will avoid toleration and side effects.
The exact dose varies from one person to another based on many factors like your diet, body weight, and metabolism. So you will need to consult your doctor to know enough about it and ask him for the right dosage.
However, it is common that people prefer intaking a dose of 10-20 mg once or twice daily.
Is cannabis-infused oil safe and legal?
Safety:
Yes, it is safe as the component responsible for the neurological harm cannabis produces is THC, not cannabidiol.
THC is the man psychoactive component in cannabis extracts. THC gives the high feeling and euphoria by binding with certain receptors in the brain. Yet, cannabidiol is a safe non-psychoactive compound.
Legality
Cannabidiol oil products legality and cannabis-related laws vary from a state to another in the USA, and from a country to another, as well.
Most states in the US legalize cannabis-infused products, in some few others, they don't (not those with 0.3%or less THC).
In some states, you can't buy cannabidiol oil products without having a medical prescription prescribed by a licensed physician.
There is a possibility that the traces of THC that cannabidiol oil contains (0.3% or less) may show up in drug screening making you fail it, so if you have one soon, you should stop consuming cannabidiol oil, as we can't guarantee if you will safely pass or not.
Cannabis-related laws are constantly changing right now, you must check your current state's laws if you want to buy any cannabis-infused products.
So, start now and create a new lifestyle making the useful chosen cannabis-infused oil a part of it!
Read Also: